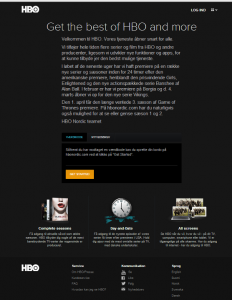 Til gengæld binder man sig for seks måneder af gangen. Hvilket i første omgang ikke gør så meget, for der er jo indhold nok. Men den måde HBO har bygget deres Terms of Service op, med at man skal afmelde sit abonnement tre måneder før udløb, virker meget. bondefanger-agtigt..
Og billedkvaliteten. Den er til tider god, til tider dårlig, men det er forhåbentligt noget, HBO aktivt arbejder med.
Jeg savner også en app til min ps3. Jeg havde lige vænnet mig til at afspille serier og film via Netflix på ps3'en. Og vil foretrække at gøre det samme med HBO – det er bare lidt nemmere end at smide den bærbare til tv'et.. Så det er forhåbentligt HBOs næste platform.Så kom min beta invite endelig, og jeg gik med det samme i gang med at udfylde min registrering. Det tog ikke lang tid, så var jeg i gang med at se Game of Thrones sæson 2. Og efter den venter både Treme og Boardwalk Empire. Og flere andre. For serieudvalget er præcis så godt som man kunne ønske sig. Det er jo HBO.
Alt i alt har Netflix og HBO tilsammen betydet at min tvpakke er blevet nedgraderet, men mit udbud er blevet bedre.  Og jeg kan ikke se nogen af dem blive opsagt lige med det samme.