Som så ofte før om fredagen, havde jeg igen i dag bestilt pladsbillet til turen hjem fra arbejde. Efter at billetautomaten i sidste uge havde spist min bestilling uden at kaste en billet op, havde jeg en dialog med #omDSB, DSBs twitterkanal, som på fin vis gav gode forklaringer – ganske vidst dog først efter weekenden, for #omDSB  lukker kl 1600 på alle hverdage, da der jo ikke er nogen, der rejser herefter, som kan have brug for hurtig hjælp eller svar..
Men som lovet undersøgte de problemet  og  vendte fint tilbage dagen efter med et svar. Der skulle være ikoner på skærmen, når en automat ikke er i stand til at printe en billet, så man på den måde bliver advaret om, at der kan være et problem. Ikoner, som jeg åbenbart havde overset.
Derfor var min glæde stor i dag, da personen foran mig blev udsat for en "print mislykkedes" skærm. For nu fik jeg muligheden for at se de ikoner, jeg så blindt havde overset sidste fredag.
Desværre har jeg åbenbart brug for hjælp. Hvis du kan finde ikonerne på det billede, jeg tog af billetautomatens skærm, så vil jeg gerne have lidt guidance til hvor det er de fantastiske ikoner er.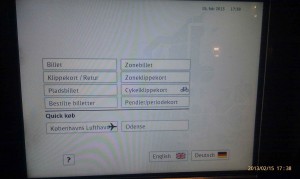 Da den flinke infodame lidt senere kom forbi, og så en række ved en automat , og der ingen kø var  ved den anden automat, spurgte hun om der var en grund til vi alle stod i en kø. Vi fortalte selvfølgelig at automaten ikke virkede, da den ikke ville printe billetter ud. Hun lyttede og gik så videre. Da jeg 10 minutter senere gik forbi automaten igen stod der en ny person og forsøgte uden held at printe en billet. Infodamen havde ikke sat en seddel op eller på anden vis gjort opmærksom på at automaten ikke virkede – sikkert fordi ikonerne viser det så tydeligt!