It's been 18 months since I last saw Wolf Alice live (july 2016), and this time Lille Vega is sold out. Which makes sense, because Wolf Alice is a top-class act.
Since 2016 they have released a new album, Visions of a Life, which is heavily featured at the setlist, but without forgetting about the great songs from the debut-album "My Love is Cool".
The setlist has a wide range, from atmospheric songs like "St Purple & Green" to the raging riffs in "Yuk Foo" and "Moaning Lisa Smile".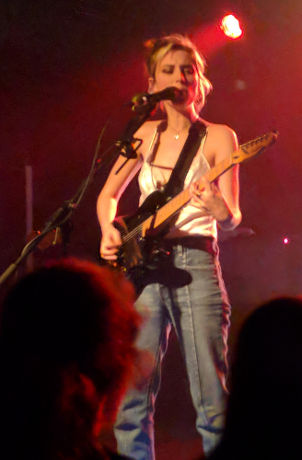 Ellie alternates between singing and roaring, using two mics showing off the dynamic range of her voice.
Wolf Alice is a energetic band, which they proved from the beginning of the setlist with Heavenward and  Yuk Foo with bassist Theo Ellis heavily gesturing to the crowd. They lost a bit of the energy in the middle of the setlist where Ellie Rowsell seemed a bit distanced to the crowd and the music, but their snarling energy returned a little later  with renewed power.
Wolf Alice is a great live band and despite seeming a bit distanced (or maybe tired) for a few songs in the middle of the concert, the band is entertaining and gave a rousing performance tonight.
My favourite Wolf Alice song
Figured out I'm good
Turn me down like I knew I should
Punch drunk, dumb struck, pot luck happy happy

Don't chicken out, it's all good
You're allowed to be what you could
Blush is my all-time Wolf Alice favourite song and they played a beautiful rendition of it as the first song of the encore. It's low-key which is a great contrast to the energic songs ending the ordinary setlist.

Support: WY
Support was the swedish duo WY. The short seven song performance proved their songs to be good, although the live versions had muddled bass and some of them were a bit too sample heavy to my taste.
WY would also profit from a bit more stage presence although that improved a lot in their last song.
Better sound, less samples and WY is a good live act.

Setlist
Heavenward
Yuk Foo
You're a Germ
Your Loves Whore
St. Purple & Green
Don't Delete the Kisses
Planet Hunter
Bros
Silk
Lisbon
Beautifully Unconventional
Formidable Cool
Sadboy
Space & Time
Moaning Lisa Smile
Visions of a Life
Fluffy
Encore
Blush
Giant Peach